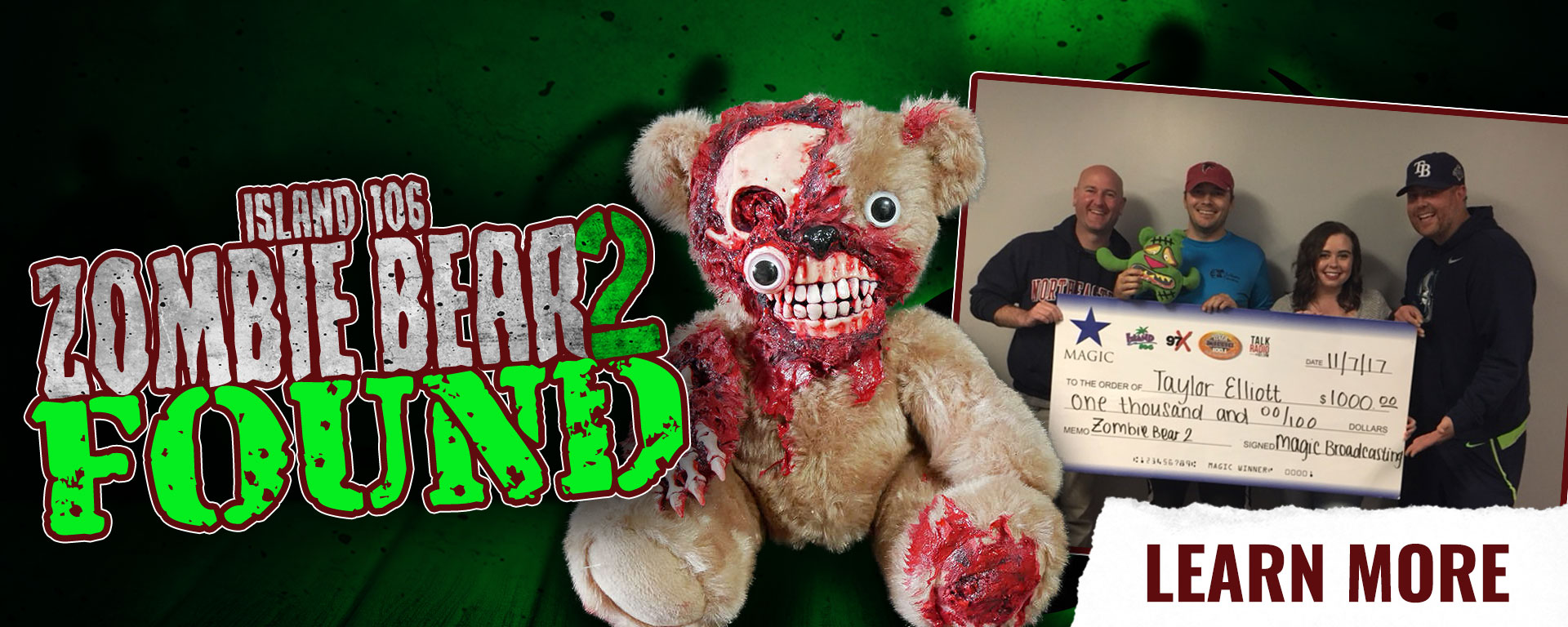 We knew the risk. We gambled. We lost. While loose in the wild, our Zombie bear infected another bear…. WITH CASH! Oh, and we lost this one too. Big surprise there, huh? Island 106 is monitoring the cash infestation and it kicks off with the Text To Win Weekend starting Saturday, October 28. Don't try and find him on your own, we can help!  We're giving away stuffed teddy bears and giving exclusive clues that only the winner gets. So, you'll have secret information all to yourself, to help you find ZOMBIE BEAR 2. He's somewhere hiding in Bay County.
Text and Win ALL WEEKEND and spread the infection to your bank account. Win a $1,000 if you're the first to find him, Zombie Bear 2. Get all the clues and exclusive intel to help in your hunt sent to your phone when you text "HINT" to 51879.

I'M HIDDEN IN A PLACE THAT SHARES A NAME WITH A COMPANY FAMOUS FOR GOLF…
THESE GARDENS SHARE THE NAME OF THE AREA WHERE I LAY BOUND AND WAITING…
LOOK TOWARDS THE MORNING SUN, FROM WHERE THE OLD ZOMBIE BEAR LAY IN HIDING…THEN TRAVEL 9 MILES…THIS IS WHERE YOUR HUNT FOR ME SHOULD START.
CHERRY IS SO…VERY ZOMBIE BERRY.

HE WAS THE MAN WHO TRIGGERED THE CALIFORNIA GOLDRUSH.

TAKE THE SQUARE ROOT OF 100 AND MULTIPLY THAT BY 5. THEN ADD 30, MINUS 5, THEN DIVIDED BY 5.

I HEAR WATER RUNNING… MAKES WE WANNA GO TO THE BATHROOM.

"HERD THROUGH FIR" IS NEITHER COW, NOR TREE.

IF EDWARD J. DE SMEDT MARRIED HEINRICH HERTZ

725 OF 11,695

IM A ZOMBIE BEAR, NOT A HONEY BEAR, YOU'RE BEING TOO PC

SHIFT TO PARK FOR A DOG IS NEAR

I SEE TREES, I SEE LEAVES…CONCRETE AND STEEL.  ZOMBIE BEAR'S HUNGRY, SOME BRAINS WOULD BE IDEAL

THE LITTLE BEAR GOES ROUND AND ROUND… OR HE WOULD HAVE A FEW YEARS A GO

SUCH A PRETTY PLACE…. EXCEPT FOR THE TRASH

NOT BLOOD, MAYBE MUD… THIS ZOMBIE BEAR IS A MESS

THERE ARE TWO SIDE BY SIDE

AND ANOTHER TWO SIDE BY SIDE

IF I WERE DROWNING WOULD YOU THROW ME A LIFE SAVER?  TOO LATE I AM A ZOMBIE BEAR

I SMELL WHITE, I SMELL WHEAT! BUT NO BRAINS?  FOR A MEAT? THAT'S JUST BEAT!

Z i g a m o r p h s  =

iGGP E. i i 

IN-GAME OPTIONAL  

from Pseudonym Games

I can see the beast, Ice brewed for a crisp, bold taste,

6 min (2.8 mi)from PC Mall  via Industrial Dr and Sherman Ave
The following rules apply to The Island 106 Zombie Bear contest, sponsored by Magic Broadcasting II, LLC. Radio Station, WILN / Island 106 FM, owned and operated by Magic Broadcasting II LLC. By participating in this contest, listeners agree to be bound by the following rules. In addition to previously established "General Contest" Rules located @ www/ island106.com, specific rules apply for listeners participating in the Zombie Bear Contest. Specific Rules are listed below.
Listeners will be given clues and encrypted messages. Listeners will have to keep track of the clues and messages to create a map to the Zombie Bear location. The immediate listening area of Island 106 FM is the description of the location of the Zombie Bear. One Thousand Dollars ($1,000) cash prize is associated with the Zombie Bear Contest. In order to win the GRAND PRIZE of $1,000.00 cash the Listener will locate the Bear, once the Bear is found the Listener will deliver the Bear directly to Magic Broadcasting II, LLC. Station at 7106 Laird Street, #102 Panama City Beach, FL 32408.
The Island 106 Zombie Bear holds the "key" to the grand prize.
The Island 106 FM listening area is defined by the broadcast range of the station (excluding Internet streaming).
Clues, as to The Island 106 Zombie Bear identity or location, will be given on the air at specific times throughout the day. Clue that previously aired will be posted online at www.island106.com (the day after). Different clues will be given out beginning October 16, 2017, 4 times daily (Monday thru Friday) at 7:10am, 10:10 am, and 2:10pm, 4:10pm up until the island 106 FM $1,000 Zombie Bear is found and delivered to the Island 106 Studio.  Clues will be announced each weekday (Monday – Friday) for the duration of the contest.
This contest cannot be won outside of the designated operation hours. Monday through Sunday, from 8:00am to 8:00pm.
In order for a contestant to win, he or she must be 18 years or older. Island 106 FM does not guarantee the safety of participants in this contest. By participating, contestants agree that Island 106 FM will have no liability whatsoever for any injuries, losses, or damages of any kind suffered by participants, as a result in whole or in part, directly or indirectly relating to this contest. Island 106 FM is not responsible for the negligence of the contestants.
Listeners participating in the Zombie Bear Search may not access private property to search for the bear. Trespassing laws are strictly followed by Magic Broadcasting II, LLC. We urge listeners to be safe, smart and aware of their surroundings. Private Property includes but not limited to: residential dwelling, residential lots, Private Driveways, Private Parking Lots, and Place of Worship. The result in public or private property damage/ commit defacing public property the Listener will be immediately disqualified from the Zombie Bear Contest and any future Magic Broadcasting II, LLC. Contest or On Air Promotion.
Winners are solely responsible for all taxes, duties, and/or other costs that may be associated with the winning of a prize.
Each clue will directly or indirectly be linked to the description and location of the Island 106 Zombie Bear.
Participants found searching on private land, using private land to access or gain unfair advantage to the location of the Island 106 Zombie Bear, will be immediately disqualified. Listeners participating in Island 106 contest are required to follow the listed rules of the contest, as well as the rules and regulations of the location where they may seek out the Island 106 Zombie Bear.
Destruction of private or public property is NOT necessary to find The Island 106 Zombie Bear. "Risk-taking" is not required to locate The Island 106 Zombie Bear. "Risk Taking" includes but not limited to: Putting yourself in physical harm's way,  Placing other individuals in a dangerous situation that could result in physical harm. Magic Broadcasting II, LLC. Want to make it very clear to participants that at any given time Magic Broadcasting II, LLC. Would not intentionally or unintentionally direct listeners into harm's way or dangerous situations. Listeners will not be directed to enter into a dangerous situation mentally or emotionally. The contest and promotions conducted on air, social media and online are for the sole purpose of entertainment and fun. At no time whatsoever would listeners be encouraged to enter into a dangerous situation for any event associated, hosted or sponsored by Magic Broadcasting II, LLC.
Island 106 Reserves the rights at any given time and at its sole discretion during the Zombie Bear promotion to terminate or suspend the contest.
All decisions made by the station manager and judges appointed by WILN, Island 106. WILL BE FINAL!
The winner of the competition will be required to take part in all publicity activity associated with the promotion, including, but not limited to, phone calls, radio, TV, or press interviews, etc., for the duration of the promotion- and any time thereafter where there is publicity associated with the promotion.
By participating, the winner agrees not to engage in any negative interviews or make any disparaging comments or statements about The Island 106 Zombie Bear, their employees or associates. By accepting the prize, the winner grants permission to Island 106 to use his or her name, photograph, voice, and likeness for the use in advertising and/or publicity.
Any winner or contestant agrees to assist Island 106 in the conduct of any investigation deemed necessary or appropriate to determine the legitimacy of the contestant's fair play.
Employees and immediate family members of Magic Broadcasting II, LLC and their affiliates are not eligible to participate in this contest.
No purchase of any kind is necessary to win.
The rights of Island 106, under these rules and regulations, will not be prejudiced or restricted by any indulgent forbearance extended to a winner or contestant and no waiver by Island 106 FM in respect of any breach (actual or these rules and regulations will operate as a waiver in respect of any subsequent breach.)
The interpretation of the listed rules and all other rules relating to contest or promotions sponsored by Island 106 FM, is reserved exclusively to Island 106 FM. All decisions shall be final, unless otherwise decided by Island 106 FM Station Manager, Magic Broadcasting II, LLC. General Manager.
In all matters, all decisions of Island 106 FM staff will be final and cannot be contested.  No correspondence or discussions will be entertained.
WILN/ Island 106 FM reserves the right to amend these rules without notice.
In the event the Zombie Bear is not found within the internal time frame approved by Management, Island 106 FM will have a specific time to check the secret location of the bear. If the Zombie Bear is not in the location a new bear will be hidden and the contest will continue until the bear is found. The Contest is constructed to ensure ONLY listeners participating will know the Zombie Bear when its found. Listeners participating know what to do once the Bear is located.
ALWAYS STAY IN A PUBLIC AREA! 
DO NOT DEFACE PUBLIC OR PRIVATE PROPERTY!