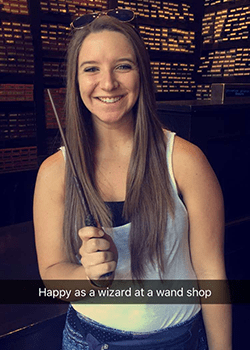 I'm just a Harry Potter girl living in a muggle world. I have lived in Panama City for the past twelve years and there is nothing I love more than laying on the beach drinking my butterbeer. With radio being my passion and Island 106 is my favorite station, working for this legendary station make me happier, than a wizard flying their broom.
Selfies are not my forte, but I posted a few so you can get to know the newest edition to the radio, ALexa! I look forward to meeting you all and showing off my goofball characteristics.
I'm a complete Harry Potter dork, I'm obsessed with Star Wars and can watch super heroes movies daily. I eat sleep and breathe radio and want to be someone that people enjoy listening to in the morning. I've always dreamed of having my own show and I am going to will bust my butt, until I get there. This music is to entertain my third shifters, from 11 until 2. I my goal is to make you smile with my funny, foolish, and inappropriate comments.
Want to request a song? Send me an email at, alexa@island106.com or text the word ALEXA and your shout out or request to 51879.
You can also, find me on Facebook @RadioAlexa and Twitter @RadioAlexa
Get ready to laugh from dusk to dawn! Thank you for listening!