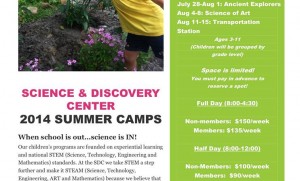 Boys And Girls Club:  
Now registering for summer!  Program dates June 13th-Aug 15th 
Kids can enjoy a summer full of Arts & Crafts, Field Trips, Sports & Recreations, A Game and play room. 
3 locations Call between 12-6pm
Frank Brown Park on Panama City Beach-850-236-3030

St. Andrews-850-763-3546

Millville-850-785-2747
Rates:  Youth 6-12 $375   Youth 13-18 $275 for the whole summer. 
CLICK HERE FOR MORE INFO
Kids' College Summer programs at Gulf Coast State College.  
Digital Kids-

Multimedia software teaches your child the layout of the computer keyboard. Integrated music and puzzle activities make learning keyboard fun! 

Rockin' Robotics-

Young engineers will work to build robots using the Lego Mindstorm NXT Robotics. 

Junior CSI-

Crime Scene Investigation will provide students with the opportunity to develop skills in through the application of crime scene analysis, evidence gathering, critical thinking, and communication and presentation skills. 

Marine Science-

Get hands-on learning through fun activities designed to allow you to explore our local ecosystem

The Art of Theatre-

Learn the craft of theater including staging, acting, singing, dancing, and costuming from a seasoned pro.
Most of these classes are for 7-10 year olds and time varies from 9am to 4pm
For general information on Kids' College, call Kelli at 850.867.0732 CLICKHERE FOR MORE INFO.
Science and Discovery Center
Karate Summer Camp 

Call 850-785-2024 or stop by the Karate Training Center 3414 Jenks Ave
 Your kids will learning discipline, respect and self defense! This includes fitness exercises, power tumbling skills, coordination drills along with other children in our program. We will practice martial arts every day, some days we will go out on our our door fitness area for out door activities and even go on field trips! We offer a study room, reading time, karate studies, crafts games and brain building skills. ALL THIS IN JUST ONE SUMMER SESSION.
Summer Camp Cost
$75 dollars per week per child
Children bring their own lunch, we provide snacks.
Parents will be advised of other activities and any additional items needed.
Karate Training Centers Sumer Camp Karate Program Schedule
Monday – Friday 7am til 5:30pm.

Dragon Dojo Summer Program!!!
We are teaching children martial arts, goal setting & achievement, self-defense, public speaking, fitness, nutrition, stranger danger, bully prevention & more!
PROGRAM SCHEDULE ~ SPACE IS LIMITED ~ WE ARE ONLY ACCEPTING 60 STUDENTS, SO RESERVE YOUR SPOT TODAY!!!!

​.The summer program will be 9 weeks long with a four day break for the 4th of July weekend.

.​Enrollment is a first come first serve basis! You may enroll in some, or all of the camp, and you may pick and choose your weeks.  CLICK HERE FOR MORE INFO

P.I.T Academy At The Rock Pile

If you are looking for a training ground that will take you or your child to the next level, look no further! The Rock Pile is offering the community the P.I.T. Academy! 
Ages 10-18, Boys and Girls welcome!

 
Starts June 9th.  Group Sessions M,T,TH 9am-11am or 4pm-6pm

 
Rates anywhere from $29 for one to $179 for the month.

PARENTS WORK OUT FREE AT THE ROCK PILE WHILE THE ACADEMY IS IN TRAINING!
Sign up and pay now online to reserve your place!  CLICK HERE!!!

McKinney Fitness on Panama City Beach
Summer Kids Fit Program 
They will be holding a 5 week program (all on Saturdays)
Ages will range from 5/6- 12/13. 

 
Water and snack break provided and included

 
Call John with any questions 850 348 3698.
Dolphin Day Camp! At Gulf World
Spend the day at Gulf World Marine Park meeting our amazing animals and going behind the scenes in our animal departments. 

Price is $65.00 Per Person (plus tax)

Must be 7 to 12 years old to participate.

Maximum number of Dolphin Day Camp campers: 14

Minimum number of campers required: 4

Pizza lunch, drinks and a snack are provided.

Receive a complimentary Gulf World Marine Park t-shirt and a 5×7 photo with one of our animal stars.

For more information call 850-234-5271 or email reservations@gulfworldmarinepark.com
Vet Camp! Gulf World
This specialty camp is only offered in June & July
Thinking about becoming a veterinarian? Participate in Gulf World Marine Park's Vet Camp and take part in the daily life of our Veterinary Staff. 
Price is $75.00 Per Person (plus tax)

Must be 8 to 13 years old to participate.

Maximum number of Vet Camp campers: 8

Minimum number of campers: 4

Pizza lunch, drinks and a snack are provided.
Summer Safari Zoo Camp At Zoo World  
To Register call 850-230-1243
CLICK HERE FOR INFO
Visual Arts Center :
 19 E 4th St, (850) 769-4451
If your kids love Art then you might want to check this out.
Possible summer programs
Panastics Gymnastics & Cheer Tumbling: 850-872-0375
709 W 13th Street, Panama City, FL 32401

·  Gymnastics Plus: Two locations- Panama City Beach 249-1155 or Lynn Heaven 769-1159.   Summer camp starts June 9th– Aug 15th weekly field trips, games and more.  
·First Baptist Church: 640 Grace Ave Panama City Fl,32401 (850) 785-6146.